To update your authorize.net signature key, select the E-Commerce tile. 
Select the Settings tab.
Select the Payments tab.
Select the drop-down menu and select Edit.
Next, you'll need to generate a signature key in your authorize.net account.
Log in to your authorize.net account
Click Account from the main toolbar
Click Settings in the main left-side menu
Click API Credentials & Keys
Select New Signature Key
Click Submit to continue
Request and enter PIN for verification
Your new Signature Key is generated
Copy the key to clipboard
Back in your E-Commerce tile, paste the new signature key in the Signature Key field. 
Select "Save". 
The new signature key has been saved!
The areas that you ship to are called destination or shipping zones. Each shipping method in your store can be limited to a certain destination zone so that the rate only applies to customers whose shipping addresses are within this area.
Destination zones in your store can be limited to world regions, countries, states, and, when restricted by post codes or zip codes, to cities, towns, and streets.
Creating Destination Zones
To create a destination zone, select the E-Commerce tile.
Select Settings > Destinations Zones. Select Add New Zone. You have the option to update the zone name and add by country or state.
Add By Country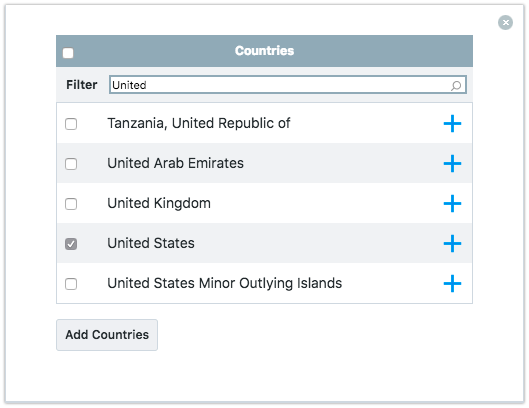 Add By State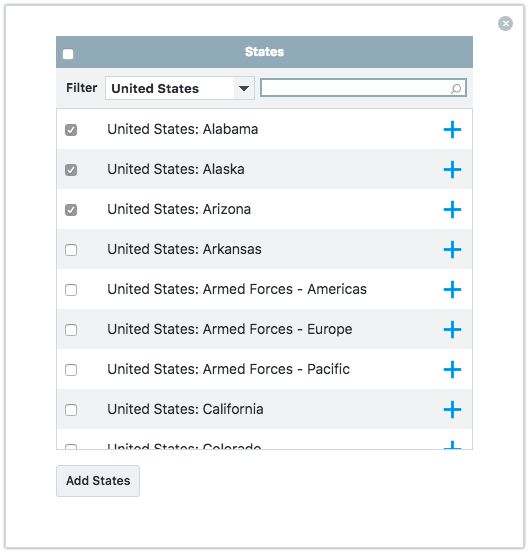 Fill out the 
Zip/Postal codes
 field to restrict the zone to certain locations within the state, e.g. cities, towns, and streets.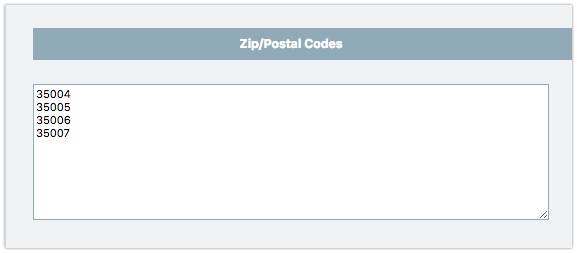 You can use wildcard symbols to build the list of zip/postal codes:
"?" matches any single character.
"*" matches any number of characters, including zero. Spaces will be ignored.
"_" matches any number of spaces (at least one).
Removing an Area From a Destination Zone
To remove an area from an already configured destination zone, select the specific destination zone name. Select the 
Trash can
 icon to remove an area from the shipping location.
Assigning Destination Zones for Shipping Methods
When you create a new shipping method, you can select the destination zone to which it will apply. Select the Shipping and Pick-Up tab. Select action and edit.
Scroll down to the shipping region section and select the destination zone you would like to set. 
Select the countries you want to ship to.
United States, US & Canada, and Europe are set as default destination zones. We recommend leaving these settings as is.
To add a new shipping carrier, select the Add Shipping Method button.
Select a shipping carrier. For this example, we'll select FedEx.
Select the specific shipping method for the carrier selected. Select Account details to go to the next section.
Account Details: We recommend you use the default settings in this section. Select Name shipping method to go to the last section.
Name Shipping Method: We recommend you name the shipping method the same as the carrier selected. Select Save & Finish to complete the new shipping method setup.
You will now see the new shipping method added to the enable shipping method section.
Select the Change button to update the email address that will display on all emails to customers.
Select Save changes after the email address is updated.
Select Upload Logo to upload your logo.
These email notifications are automatically sent to you and your customers.
Click on the templates below to customize notifications.
The templates are HTML, so users must be familiar with HTML to make changes. 
If you accidentally make a change, you can revert the template back to the default. Select the Revert to Default link on the bottom of the screen.
Invoices itemize transactions. They typically include the purchase quantity, price of goods and/or services, date, parties involved, invoice number, and tax information. You can upload a logo and your business registration number below to personalize invoices.
You can upload your logo to display on all invoices and add your tax ID (if applicable). You can update the invoice template using the HTML CSS.
If there are non-taxable products in your store, you can set up a zero tax for them using the manual tax rates option. 
To make a product non-taxable, select the E-Commerce tile.
Select Catalog and select the product you would like to make non-taxable.
Select the Tax and Shipping tab.
Scroll down and select the toggle to disable tax for this specific product. Select Save. 
It is possible to set up taxes to charge the proper rates during checkout. This makes it easier to apply and collect the correct rate, report income, and comply with local tax laws.

To set up taxes, s
elect the E-Commerce tile.
Select Settings > Taxes. You can add taxes automatically or manually. 
Automatic Tax Calculation
For users in the US, Canada, Australia, and Europe, we calculate tax rates automatically based on your store and customer's location. At checkout, the customer will be charged a proper tax rate according to country and regional tax rules.
Tax laws are constantly changing. Country, state, or even city governments may apply new tax rates that a business owner is expected to keep up with. We always stay up to date on tax law.
Setting up Automatic Tax Calculation
To enable automatic tax calculation, toggle the Automatic button to Enabled.

Once enabled, the automatic tax rate will determine a precise tax rate at checkout depending on where you and your customer are located. The tool knows the tax rules in your country, state, and even county and city, and applies them properly to each order:
Whether you're located in a region with origin-based or destination-based tax schema
Whether shipping cost or discounts are taxable
Whether you should charge tax in another state or country not
The tax rate is calculated with a zip code accuracy. If your customer provides zip+4, it will be calculated with even higher precision. In some states (and the number of such states is growing), the tax is calculated with a street address level precision.
Are county taxes calculated automatically? What about zip+4 taxes?
Yes, the automatic tax calculator recognizes counties, zip codes, and even street addresses (in some states). If your customer provides zip+4, the rate will be calculated with even higher precision.
What if some of my products are not taxable?
Automatic tax rates apply to all products by default. If you do not charge tax for some of your products, or you need multiple taxes, you will need to use manual tax setup.
Setting up Manual Tax
You can manually configure your store to calculate tax rates for different regions, zones, and countries.
For example, you need to create a 7.5% tax for California.
Select Settings > Destination Zones, and select Add New Zone.
Update the Zone Name and select Add State.
Select the state.
Select Save.
Select Settings > Taxes. Select the Manage Tax Rates button.
Select Add New Tax.
You have the option to edit the Tax Name, set the tax applies to, and zones defines by. Select the Specify Rates Per Zone button.
Select the Rates Per Zone dropdown and select the new destination zone you created.
Add the tax rate and select Save.
The specific tax rate has been added.
Why isn't tax calculated if I use PayPal Express Checkout?
Most likely your "Zone defines by" tax option is set to "Billing address". PayPal does not return a customer's billing state code, only the country code. That is why we can't calculate the tax if it's based on the billing address. Please change the "Zone defines by" option to "Shipping address" to fix the issue.
I am from the EU. How can I set up my store to comply with EU business regulations?
EU countries like Germany and Italy have certain regulations that impose rules on businesses and require specific display of product prices and sales taxes. Our stores fully comply with these regulations.
How do I set up a tax rate for a certain state or city?
The tax calculation algorithm determines which tax to apply by looking through the configured tax rate list, top-down. When it finds a matching zone, it stops and applies the corresponding tax rate. So you can define tax rate for particular state(s) or cities (using zip codes), then add a rate for "USA" at the bottom of the list. In this case, the USA rate will be applied to all states except the states configured explicitly.
Tax Calculation in the US
In the US, merchants must pay taxes to the states where they have any connections to their business.
We calculate tax rates based on the store and a customer's location. The store charges a proper tax rate at checkout according to the country and regional tax regulations. We recommend that you allow the system to automatically apply the tax rate. 
In the Promotions category, you can create a coupon code, create a discount on order total, and apply PayPal credit.
Select the Add New Coupon button. This will display the fields required to create a coupon.
You will need to add:
Coupon Name
Coupon Code
Type of Discount
Time of Life
To edit an existing coupon, select the checkbox next to the coupon you would like to edit. Select the Modify button to view modification settings.
Edit the Name, Code, Discount Option, and Time of Life.
Volume discounts apply to the subtotal (sum of items before tax) for all orders that exceed a defined total amount.
Our E-Commerce Platform offers third-party app integration. To access the App Market, select the E-Commerce tile.
Select the App Market tab.
Search for a specific app using keywords or select an app category. If you are new to e-commerce apps, we recommend installing free apps first to get used to the process.
Select the app to view details and installation instructions.
App details provide you with app screenshots and a summary. Select "Install" to install the app.
Select "Install" to confirm.
The app will now install.
When installation is complete, you will see the app's options and settings. Each app's options and settings are different. 
Apps are supported by the third party. If you have questions about a specific app, select "Support" or "Help" to contact the third party directly.
To delete an app, select the My Apps tab. Select "Details" next to the app you would like to delete.
Select "Uninstall" to delete the app from your store.
Select "Uninstall App" to confirm.
The app is now uninstalled.
The Design section of your E-Commerce Platform allows you to customize your store. To get started, select the E-Commerce tile.
Select the Design tab.
Image Size
Under Image Size, you can see a preview of your layout to the right. Large images help represent products in detail. Small images let you display more products in your Product List.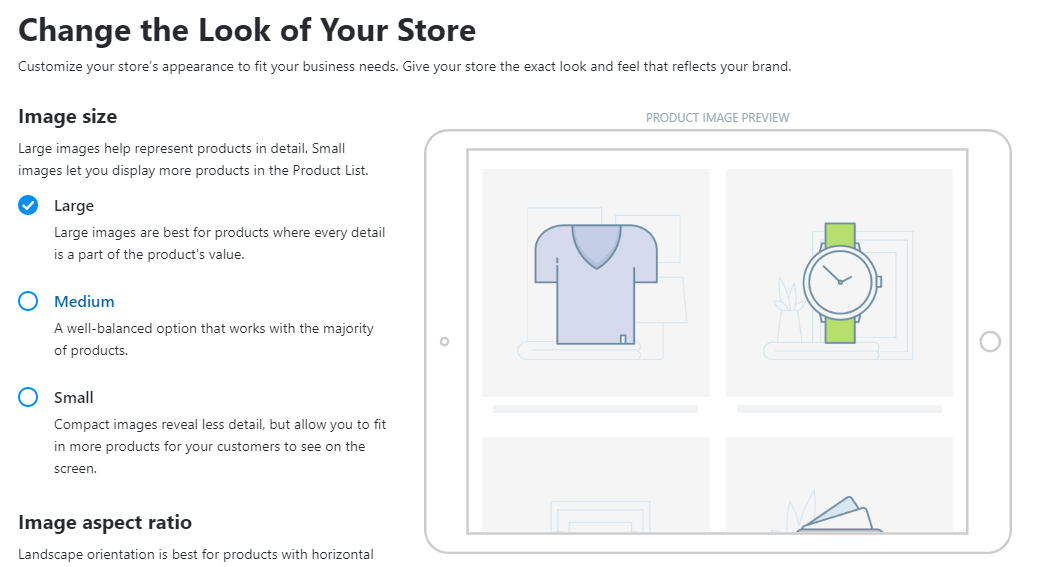 Image Aspect Ratio
Select the aspect ratio for your images. Landscape orientation is best for products with horizontal images. Portrait orientation is meant for vertical images. Square is for images of equal proportions, which is ideal for small merchandise.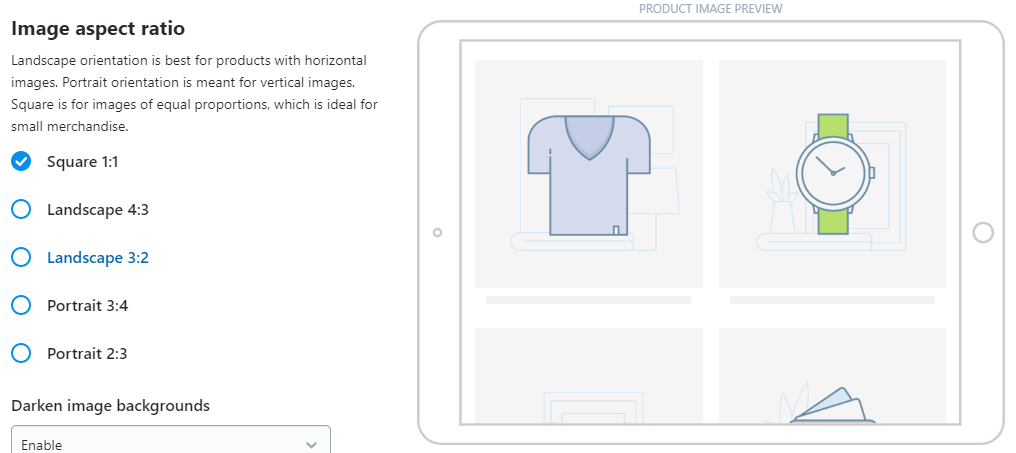 Enable the darken image backgrounds option to slightly darken the background of images. This makes them stand out against your store's background.

Product Card Details and Layout
Select the product card details and layout options. Choose which product details to display on the Product List and how they are positioned in the Product Card.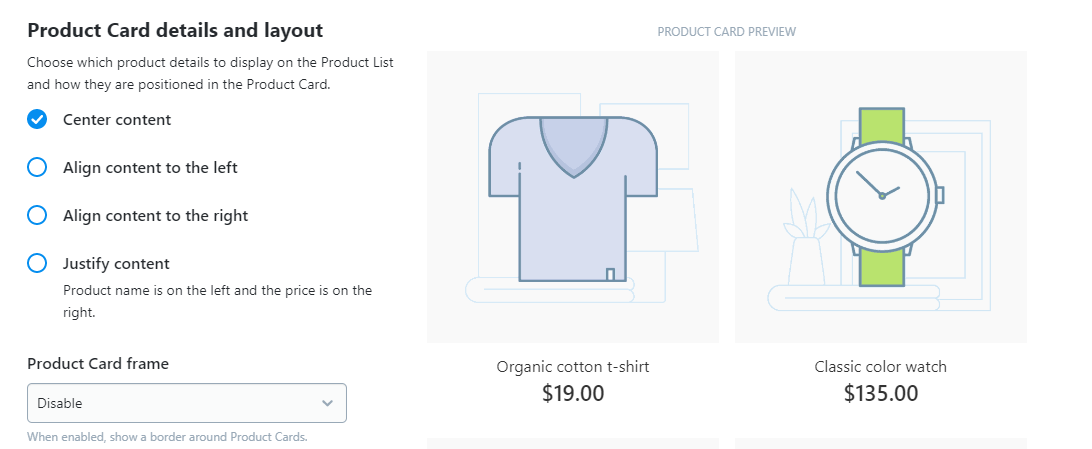 You have options to show or not show specific product information on product cards.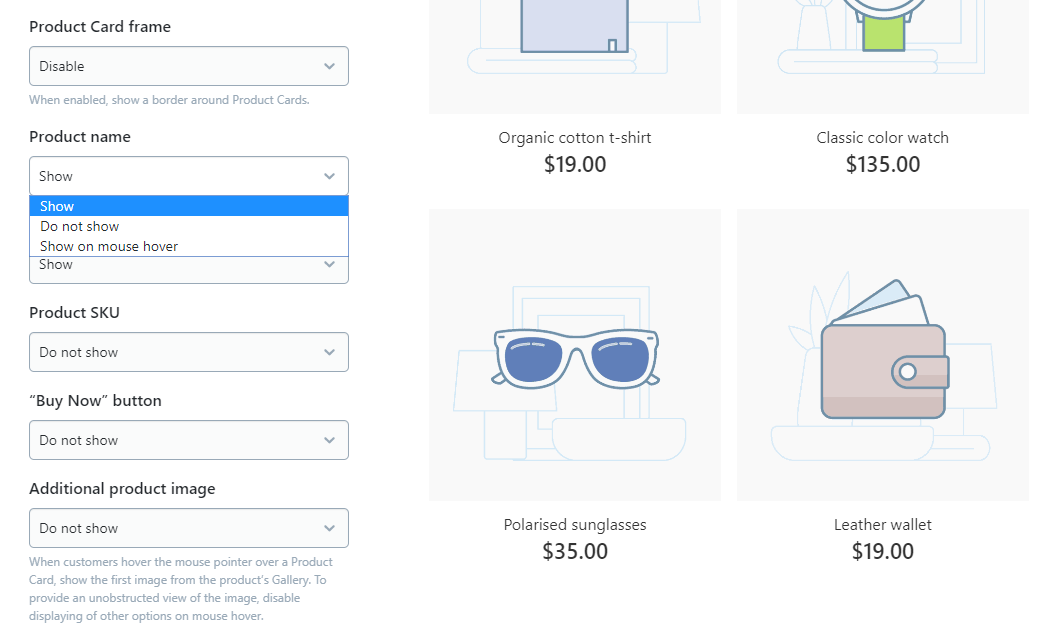 Category Name Position
Choose where you want to display category names, or choose to hide them completely.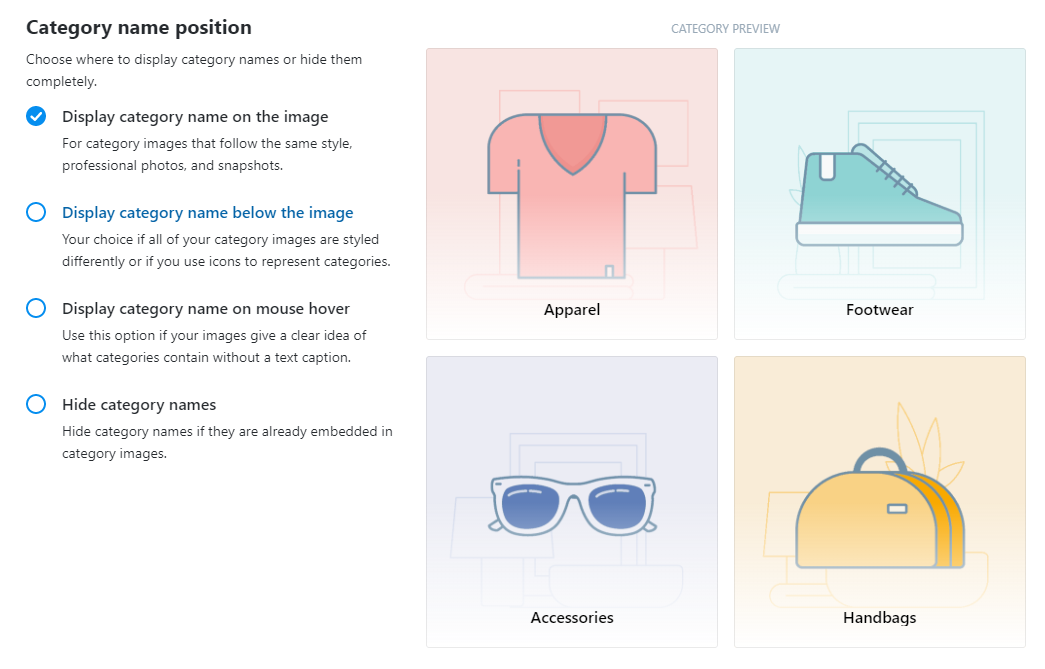 Product Page Layout
Choose the layout for the information displayed on the product's page.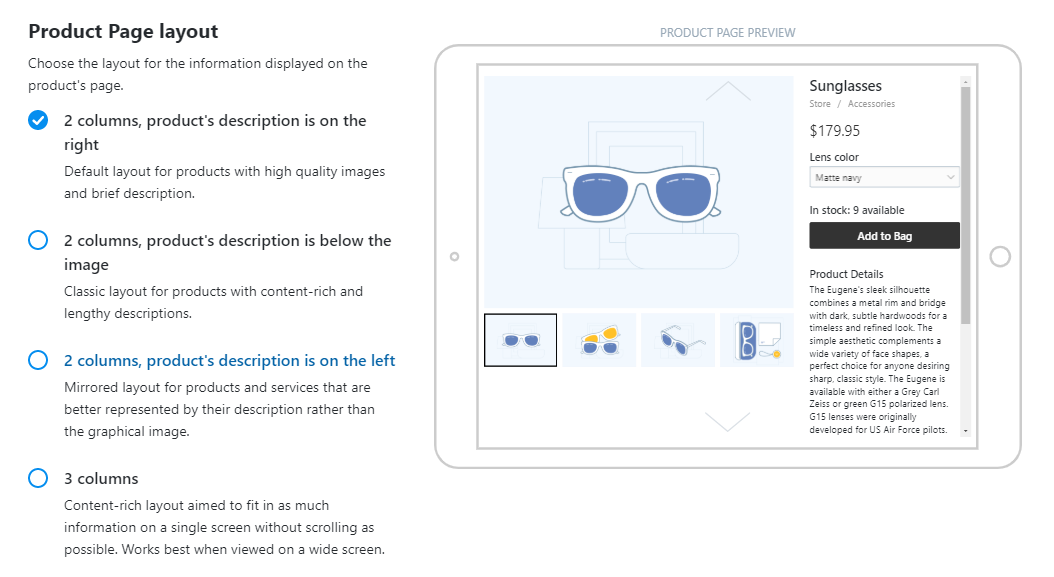 Image Gallery Thumbnail
Choose the layout for thumbnails of images uploaded into a product's Image Gallery.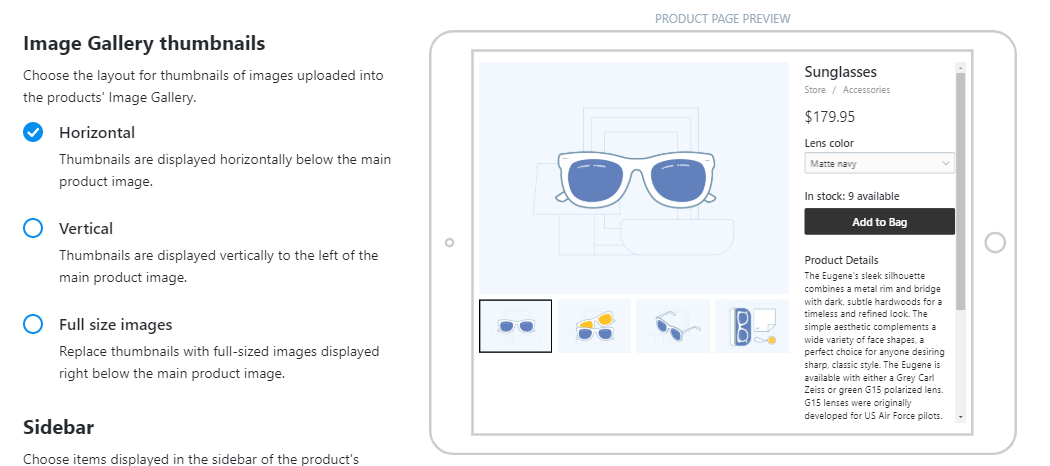 Sidebar
Choose items displayed in the sidebar of the product's page. Drag and drop the items to re-arrange the order of their appearance in the sidebar.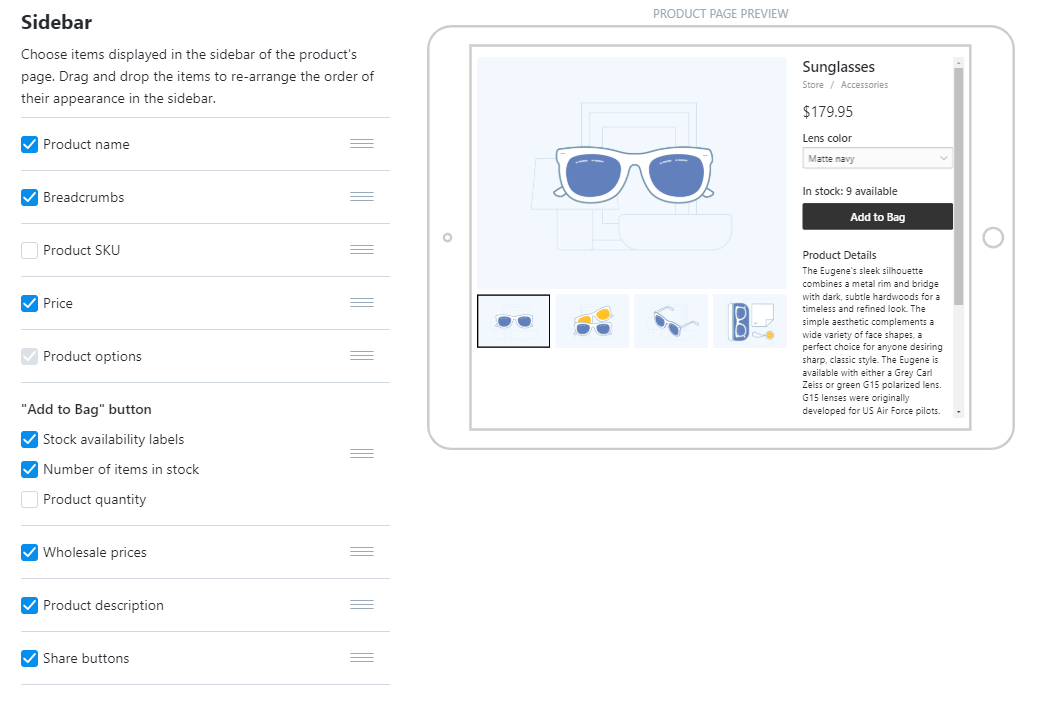 Storefront Navigation and Color
These settings determine which navigational and sorting options are available when browsing your store.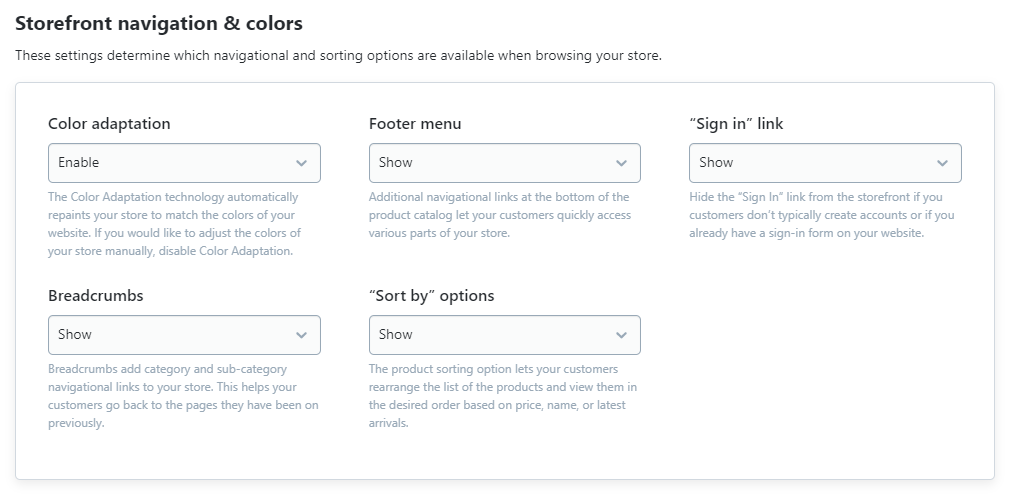 Themes and In-Depth Customization
Edit, customize, or create your own theme here.

With our mobile app for iOS and Android, you can manage your store whenever and wherever. 
Manage your store: Access your orders and product catalog even if you're offline. Add and modify products right from your sofa.
Get notified: Get notified about new orders with push-notifications and process orders on the go.
Sell offline: "Sell on the go" feature built-in.
To get started, Select the E-Commerce tile.
Select the Mobile tab.
Select "Get the App".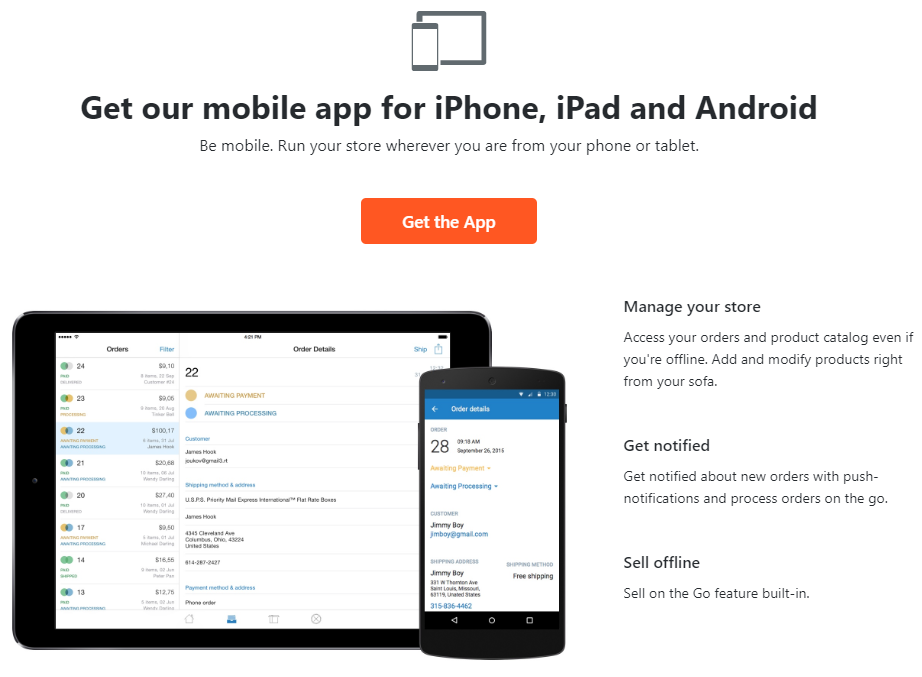 Use your phone's camera to scan the QR Code. You will be automatically logged in to the app. You can also enter your phone number and a link will be sent to you via text message.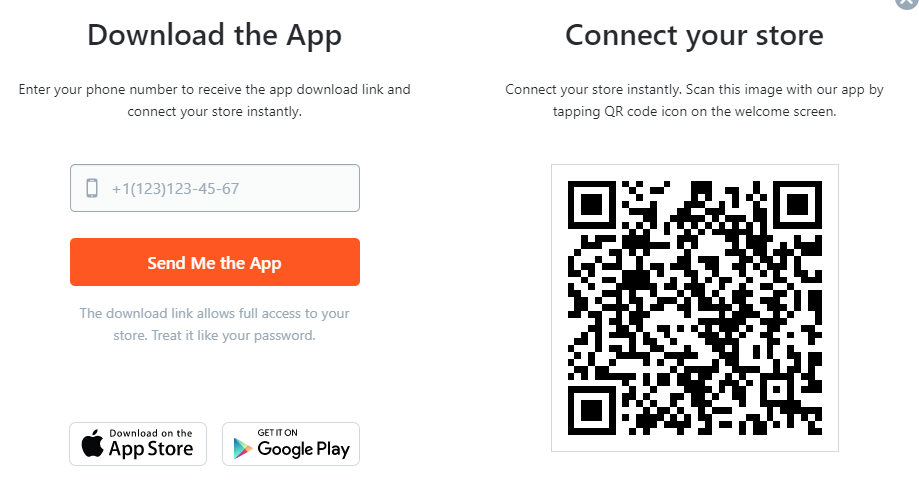 Download the My E-Shop App.