Multi-Family Real Estate 
 80%+ of customers reported that reviews and ratings were the most significant aspects before signing a lease.
Are Your Online Reviews and Reputation Important to You?
Apartment Searches & Review Statistics
Out of every 10 people that look for a new apartment, nearly seven are using reviews, according to Highly Recommended: The Influence and Impact of Online Ratings and Reviews on Apartment Searchers sponsored by Apartment Guide and conducted by Kingsley Associates.
The survey, which included responses from 29,907 current apartment residents, pointed out that different demographics use ratings in different ways. And more than 70 percent of residents under 34 were likely to probably or definitely consult online reviews in their next apartment search.
In fact, only 8.6 percent of renters surveyed said that reviews are not influential to their purchasing. A large number of respondents (87.6 percent) say ratings and reviews are one of several factors—or are one of the most important factors—influencing their decision of where to rent an apartment.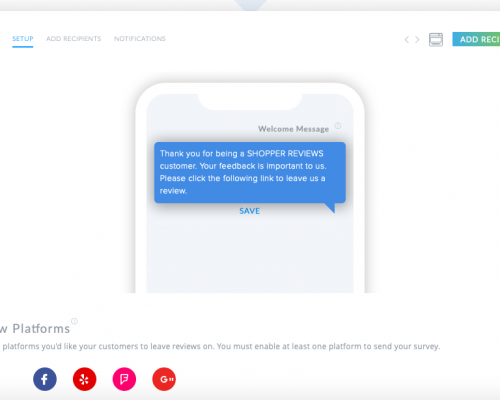 Our Guarantee
Shopper Reviews will increase your Google, Facebook, Yelp, Trustpilot reviews and more importantly your ratings will increase over time. We have several multi family complexes who have achieved higher ratings.
We will do this by giving your leasing reps or apartment managers access to our app which is free to download. Whenever a lease is signed and when the customer is at their happiest, at the time keys exchange hands, the sales manager will text the customer while being in front of them telling them "the best way you can thank us is to leave us a five star review." The customer then fills out the review by clicking on the text link and this takes about 30 seconds to a minute. 
These reviews are shared on your social media via Facebook, Twitter and LinkedIn within minutes from our software/app. They are also shared onto your website within minutes. Your manager will be notified of every review and can then login anytime and respond to reviews from our portal. All of these reviews help your local SEO and increase customer confidence which increases your occupancy rate. Which apartment would you lease from, one with a Google rating of 3.1 or one with a Google rating of 4.5?  Sign up below today! 
Millennial's 2020 
Today, Millennial's account for over 1 trillion in spending. According to Goldman Sachs , there are 91 million of them, as opposed to only 61 million Gen Xers and 77 million Baby Boomers. And this smart, young group of consumers has a lot of influence over how your brand is perceived.
Why? First of all, this demographic is way more social than any other. According to 2017 data from Sprout Social,  around 30% of millennial's engage with a brand on social at least once a month, and Millennial's are twice as likely to follow brands on social than baby boomers. Plus, they're sharing and re-sharing, tweeting and retweeting, Snap-chatting and Instagramming about their experiences with brands like yours (a lot). Thanks to that pleasure-inducing neurotransmitter Dopamine, they check their phone around 150 times a day!
The importance of authenticity has never been more important. Nearly all Millennial's 97% read online reviews before selecting a business, and 89% trust those reviews. And a recent UK study found 8 out of 10 never buy anything without first reading a review.
What are you waiting on? Get more reviews and increase your online reviews and ratings, or get left behind.